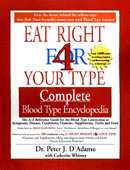 500 pages, softbound.

The A-Z Reference Guide for the Blood Type Connection to Symptoms, Disease, Conditions, Medications, Vitamins, Supplements, Herbs and Food. Over 400 entries on treating symptoms and illness according to blood type.

Dr. Peter J. D'Adamo has established himself as the world's most popular and respected authority on the connection between blood type and eating, cooking and living. Eat Right 4 (For) Your Type, Cook Right 4 (For) Your Type, and Live Right 4 (For) Your Type have created an international phenomenon. Now comes the essential desk reference to answer all your questions.

This is the ultimate encyclopedic blood type guide to conditions, herbs, supplements, medication and food. Look up everything from asthma to sore throat, from cancer to thrombosis to find out which blood type has the most susceptibility, how to attempt to heal the condition through blood type recommendations, and which medications are best for which blood type. Each condition entry will also cite rigorous studies showing frequency and severity in each blood type.

In addition, entries on the most widely used medications, such as aspirin, penicillin, anti-depressants, cough syrup, antihistamines, allergy medication, arthritis medication, pain-killers, chemotherapy, among others will help readers find out what is helpful or harmful to their blood type. Food, herb and supplement entries give specific information by blood type on efficacy for different conditions as well as overall health.

A comprehensive introduction lays out the history of blood type science as well as confirmation of D'Adamo's theories yielded by the new maps of the human gene. The Eat Right 4 (For) Your Type Ultimate A-to-Z Blood Type Encyclopedia will give you keys to unlocking the secrets to the health and well-being of yourself and your family.*The first comprehensive blood type reference by the only person alive capable of producing it

*Contains prescriptive advice as well as resources

*Includes a first-ever comprehensive introduction to the science, biology and genetics behind blood type

*Charts, maps, photos and a glossary.